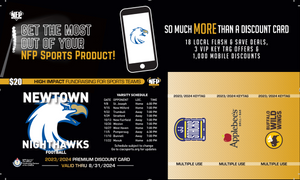 Newtown Nighthawks Football Premium Discount Card 2023
The Newtown Nighthawks Football Team is running a fundraiser to purchase the items they need to make their season great. You can help them with a small $20 contribution and in return, you receive the

2023 Newtown Nighthawks Football Premium Discount Card!

It includes 3 VIP Key Tags & additional Flash & Save coupons. Valid for multiple uses at leading businesses in the greater Newtown area including additional savings online.
VIP Key Tags
Exclusive Flash & Save Discounts (multiple uses) at the Following Establishments:
JJ Stacks (Brookfield): FREE Small Hand-Cut Fires w/ Purchase of any sandwich, burger, hot dog or wings (1 per table/visit; Not to be Combined)
Applebee's (CT Applebee Locations): 10% OFF Your Food Purchase. (Excl. Tax, Gratuity; Cannot be combined)
Buffalo Wild Wings (Danbury): $5 OFF Any Purchase of $25 or more (Excl. Alcohol & Gratuity; not to be combined)
Card Back
 Additional Flash & Save Discounts at the following establishments:
BURGER KING (Danbury, Bethel, Brookfield & New Milford)

NEWTOWN PIZZ PALACE

VILLARINA'S PASTA SHOP (Newtown)

HOLY COW ICE CREAM 

GINO'S PARLOR OF SANDY HOOK

MY PLACE 

TAMBASCIO'S ITALIAN GRILL

BOOST BOWLS

CARMINUCCIO'S PIZZA

SUBWAY

BURRITO SHACK

FRANCO'S PIZZA & PASTA

BURGERITTOVILLE

STATION 25 RESTAURANT & BAR

NOSTRANO ITALIAN EATERY

BLEECKER ST PIZZA

SALSA FRESCA

MARKET PLACE TAVERN

JERSEY MIKE'S

QUIXPRESS CAR WASH

ROCKIN' JUMP TRAMPOLINE PARK

ALL-STAR INDOOR BATTING CAGE

TOWN FAIR TIRE (All Locations)
Mobile Discounts
Access over 1,000 additional mobile discounts in Rhode Island, Connecticut, Massachusetts, New York & New Jersey. 
We will ship your products FREE OF CHARGE. Upon check out, simply select the student-athlete you wish to purchase from and they will receive credit for the sale. Please note, ALL online sales will be shipped for our office in West Hartford, CT and will NOT be delivered by a student-athlete.
As with all of our discount fundraising products, no less than 50% of every sale goes towards our participating sports teams. Thank you for supporting youth & high school sports and enjoy your #HIGHIMPACTSAVINGS!